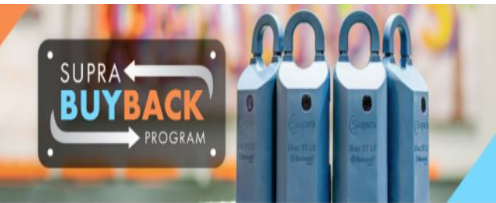 Greater Denton/Wise County Association of REALTORS® is interested in purchasing your Supra BT LE Boxes for $50 per Lockbox. Please review the procedures below and submit this form if you are interested in selling your Supra Lockboxes.
Guidelines
If you are a GDWCAR member and the Lockbox was purchased from GDWCAR we will process your purchase at 3805 W University Drive Denton, TX 76205. The Lockbox must be inspected by a Member Services team member prior to completion of the purchase. If the Lockbox is approved it will be purchased for $50 per item.
Our Member Services Team will review your submission and determine if your used lockboxes are eligible for the GDWCAR Supra Buyback Program. If your items are eligible we will notify you within two business days and arrange for final collection.
Eligibility
GDWCAR will purchase used lockboxes from GDWCAR Members, provided they are included in GDWCAR inventory.
GDWCAR will be able to purchase the Lockbox after it is deprogramed.
Lockboxes must be assigned to the member who is selling the items.If the lockboxes are not currently assigned to the member, written authorization must be obtained from the owner of the Lockboxes, giving permission for the sale.
If Lockboxes are not assigned to any member within the Supra system, proof of purchase will be required before GDWCAR purchases the used lockbox.
We will only be able to accept the "BT LE" lockboxes. GDWCAR will not accept boxes that have a "BT" or any other code. Anything without the proper code is not authorized by Supra for the buyback program.

Payment
Lockboxes that have been approved to be included in the Buyback Program will be purchased by GDWCAR for $50 each.
Members will confirm their mailing address for the purchase and a check will be mailed within (7) business days.
Disclaimer
Lockboxes with a battery level below 10% cannot be accepted and will be confirmed at your appointment.
Fields marked with an
*
are required.